The Oscars are full of unexplainable events. The fact that it took
Martin Scorsese
so long to win one. The fact that
Hugh Jackman
is hosting this year. And the fact that sometimes, the winner for Best Picture is not what you expected at all. I present to you
Oscar Hall of Shame: Best Picture Upsets.

Classic:
How Green Was My Valley beats Citizen Kane
(1942)
Of course, now
Orson Welles'
masterpiece has been named multiple times as AFI's Greatest Movie of All Time, but in 1942 it was beat out by a movie about a Welsh mining village starring
Maureen O'Hara
. Yeah, exactly. At the time, though,
Kane
didn't have the iconic status it does today. In fact, it was a bonafide box office flop. At the Academy Awards ceremony, the film was booed every time one of its nine nominations was announced.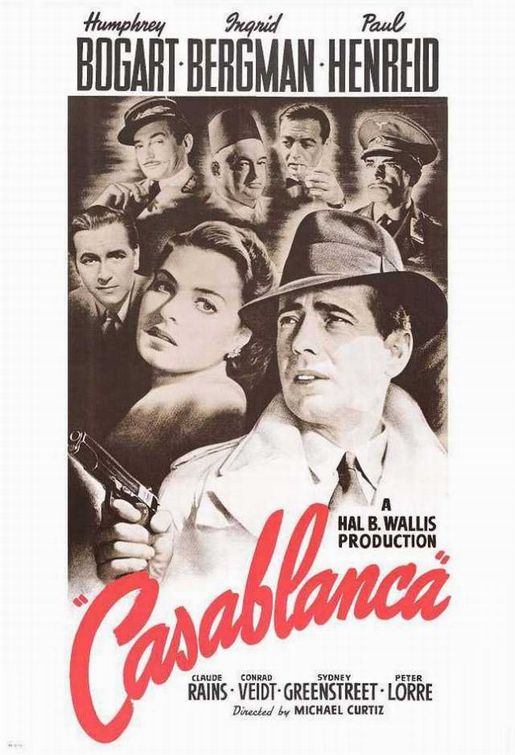 Casablanca beats The Song of Bernadette
(1943)
You might be thinking, "So? What's so 'upsetting' about that?" Today, everyone recognizes
Casablanca
as a classic, but back in 1943 it was considered a dark horse contender.
The Song of Bernadette
(starring
Jennifer Jones
) was the front-runner with a total of 12 nominations.
An American in Paris beats A Streetcar Named Desire
(1952)
What?! How could anything beat
A Streetcar Named Desire
?! Sorry, that was my inner fan talking.
Streetcar
is pretty much my favorite movie of all time (there will be a post about it soon, don't you worry), and it pains me that it didn't get a gold statue to call its own.
Streetcar
was expected to sweep—and it started out pretty well, nabbing the Best Actress, Best Supporting Actress and Best Supporting Actor awards. (In another upset,
Marlon Brando
lost out to
Humphrey Bogart
for the
African Queen
. Don't get me started.) But when the fluffy
Gene Kelly
musical triumphed, the audience, apparently, let out a collective gasp.
Modern:
Braveheart beats Apollo 13 (1995)

Braveheart—aka the movie with the power to make men cry—seemed like an iffy win at best. According to MSNBC, Apollo 13 producer Brian Grazer was so sure his movie would win, that he began to walk to the stage before the entire name was read! Braveheart had won next to nothing on the pre-Oscars awards circuit, while Apollo 13 had racked up the accolades.

Shakespeare in Love beats Saving Private Ryan (1998)


I've never seen Shakespeare in Love, nor do I have the desire too. But apparently, the Academy favored it over the Spielberg/Tom Hanks collabo, Saving Private Ryan—the presumed front-runner. According to MSNBC, many Ryan supporters will declare this was the year where the Best Picture award was bought, not earned. Harvey Weinstein reportedly spent millions of dollars on Shakespeare's Oscar campaign.


Crash beats Brokeback Mountain (2006)

There are lots of people who still think Brokeback Mountain should have won—myself included. Even Jack Nicholson was utterly surprised when he opened the envelope and read Crash's name. Don't get me wrong, Crash is a good flick too—but Brokeback seemed like a sure thing, considering all the prizes it had already collected and the phenomenal, groundbreaking performances of Heath Ledger and Jake Gyllenhaal. Alas, whether it was the homophobia of some of the Academy's older members (Tony Curtis I'm talking to you) or the fact that Crash's sprawling ensemble cast made up, like, half the Academy, a Brokeback win was not to be.