A few weeks ago Andrea introduced (some of) you to
Natalie Wood
– the
Miracle on 34th Street
cutie turned
West Side Story
hottie turned conspiracy theorist centerfold when she tragically drowned off the side of her and her husband's boat. Naturally, this sparked one of Andrea and my favorite games: "Who Would Play." In this case: Who Would Play Natalie Wood in a film about her life.
We surprised ourselves by coming up with not just one, two or three, but
four
Natalie Wood look-a-likes. Here are the contenders, in no particular order except for Katie Holmes, who goes first because she'd never get the job anyway (we'd need someone who can actually act).
So, yes: Katie Holmes, whose only chance to get the part comes from her marital ties to Tom Cruise – the head of Scientology and, in turn, the head of Hollywood. Looks-wise, Holmes would easily be molded into a young Wood.
Catherine Zeta Jones
. Because, really…
And then Andrea was all, "What about
Katharine Heigl
" and I said, "What? No." And then she posted these pictures and I was all, "Holy crap."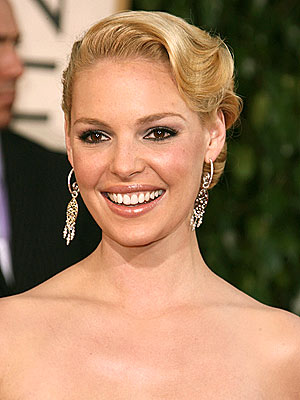 My dark horse, though, is
Jeanne Tripplehorn
. I've loved this chick (in a totally platonic way) since I saw her in
Sliding Doors
as the skanky ex-girlfriend-slash-other woman who Gwyneth Paltrow's spineless boyfriend goes back to while cheating on Paltrow in the first place. She played the part perfectly. I hated her. Anyway, you may not agree with me, but tell me Tripplehorn couldn't pull it off after looking at these:
See? Don't question me. I own this game.