Richard Burton
was a notorious Hollywood drunk. And that's no joke. In fact, he was one of the four actors written about in the book
Hellraisers: The Life and Inebriated Times of Burton, Harris, O'Toole and Reed
, described as "the story of four of the greatest boozers who ever walked – or staggered – off a film set and into a pub."
You may be asking why I would choose such a character to be today's
Matinee Man
. Simple, really. I was inspired by Jack Bauer, who has proven to me that it
is
possible to save the world (and
Brooke Shields
), one stiff drink at a time. Unless, of course, you're an
unsuspecting Christmas tree
minding your own business in a hotel lobby.
Anyway, Richard Burton.
The man began drinking his way through film sets in 1949 with
The Last Days of Dolwyn
all the way through 1984, when he finished up with
Nineteen Eighty-Four
. Of course, the almost forty years of booze had caught up to him by then. He was reportedly in terrible shape and had to wear a neck brace around set. But the man was married to Elizabeth Taylor twice so, you know, all that drinking may have been a necessity.
I don't care what any of you say, though. There's a direct correlation between a guy's looks and the amount of crap he can get away with. Burton was hot enough in his day to make the constant flow of alcohol permissible. And with that, here he is (was?): Sir Richard Burton:
"When I played drunks I had to remain sober because I didn't know how to play them when I was drunk."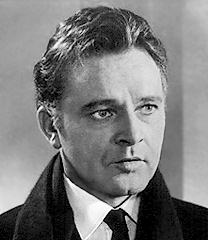 "I have to think hard to name an interesting man who does not drink."
"I rather like my reputation, actually, that of a spoiled genius from the Welsh gutter, a drunk, a womanizer, it's rather an attractive image."