In case you haven't heard, director
Ridley Scott
is reteaming with his go-to actor
Russell Crowe
for the latest remake of
Robin Hood
. I'm happy about this for one superficial reason: It's getting
Russell Crowe
back in shape. After
packing on the pounds
for
Body of Lies
…and keeping the pounds for his latest film
State of Play
, I'd say it's about time Crowe got back to his
Gladiator
fighting weight. Plus as an added bonus,
Cate "Can Do No Wrong" Blanchett
is set to play Maid Marian.
Since Robin Hood is swinging into action again, I thought I'd pay homage to the man who originated this adventurous hero on-screen:
Errol Flynn
. The dashing actor—who, like Crowe, is also Australian—was known for the swashbuckling charmers he played in films and for the boozing womanizer he played in real life. He was also known for his brawling--hey, another thing he has in common with Crowe. And get this, the phrase "In like Fynn" came from his 1942 trial for statutory rape. Lovely. His fast-living ultimately took its toll, however, and he died of a massive heart attack at age 50. But here are a few of his most famous films from his prime (all, coincidentally, co-starring
Oliva de Havilland
).
The Adventures of Robin Hood
(1938)
Captain Blood (1935)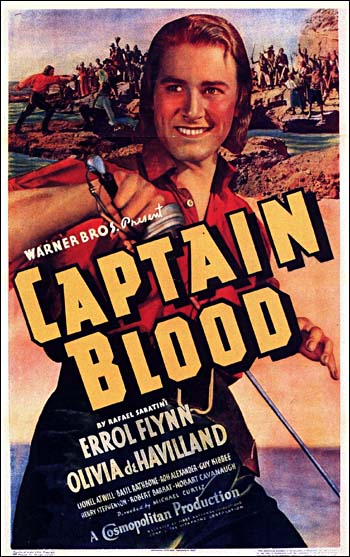 Dodge City (1939)



Which Robin Hood do you prefer? Flynn's lithe, men-in-tights interpretation? Or Crowe's more rugged, manly approach? I'm not a big Flynn fan, but I am a ho for Crowe. (Gladiator, 3:10 to Yuma (another remake), L.A. Confidential, A Beautiful Mind…come on!) Plus, Crowe could totally take Flynn in a fight. I mean, we've all seen what he can do with a telephone.