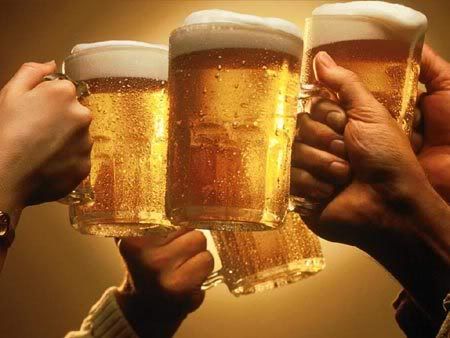 Colin Farrell
may be the hottest Irish actor out there today (eat your heart out, Rhys) but he's certainly not the first. And this being St. Patrick's Day and all, it's only fitting that we honor those who emmigrated before him, paving the way for his sweet little ass. I'd like to take this opportunity to honor my heritage and my four favorite Irish actors (Why four? The four-leaf clover, my friend. They say it's good luck). So join me, won't you? Grab that
Guinness
and that corned beef and raise them high…
Peter O'Toole
Born in Connemara, Ireland on August 2, 1932, O'Toole was raised British…but I won't hold that him completely against him. He hit it big in the '60s with back-to-back Best Actor Academy Award nominations for Lawrence of Arabia and Becket, finishing out the decade with classics like What's New Pussycat? and Goodbye, Mr. Chips.
Colm Meaney
Straight outta Compton Dublin, Meaney started his career on the British TV series Z Car in 1978. He was on one episode. Fast forward nine years when Meaney made it big in the states thanks to Star Trek: The Next Generation and Star Trek: Deep Space Nine. But I don't watch that crap, so my favorite role Meaney was from the Nick Cage action masterpiece that was Con Air. He was ornery DEA Agent Duncan Malloy who was determined to bring John Cusack's hijacked plane to the ground. Hilarity ensued. And by that, I mean explosions and bad southern accents.
Known best as the original Jane Parker, O'Sullivan starred across Olympic medalist Johnny Weismuller's Tarzan in the six-film series. Our generation remembers her more easily, however, as Elizabeth Alvorg in 1986's Peggy Sue Got Married (another Nick Cage flick…weird). She's also Mia Farrow's mom.
Maureen O'Hara
Born Maureen FitzSimons in August of 1920 in Ranelagh, a suburb of Dublin, O'Hara starred in two of my favorite classics: 1947's Miracle on 34th Street and 1961's The Parent Trap. Needless to say, she holds a fond place in my heart.
Honorable mention:
Brenda Fricker
Fricker gets an honorary mention here because most people know as Mike Meyers' mom in So I Married and Axe Murderer - probably one of the best films released in July of 1993.