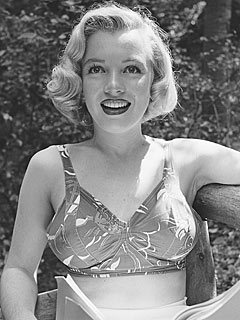 Marilyn Monroe
once crooned "Happy Birthday" to
President John F. Kennedy
, but today it's our turn to sing our own sultry version of the song to her. The blonde bombshell would have been 83 years old, had she not died of a tragic drug overdose in 1962 at the age of 36. Since she's not around to celebrate her birthday,
Life
magazine has given
us
a surprise gift:
a gallery
of never-before-seen photos of a 24-year-old Marilyn taken back in 1950. Then, Marilyn was just another rising-star having played a small role in
The Asphalt Jungle
. She hadn't yet graced
All About Eve
with her presence, or blown up her skirt in
The Seven-Year Itch
, or fallen for a man in drag in
Some Like it Hot
.
Seeing these pictures, it's hard to believe that anyone with a pair of eyes could have doubted her eventual rise to fame. Now how long before
Lindsay Lohan
tries to recreate them?